Walking down the aisle of my local Coles recently, I saw another new brush from yet another brand, trying to crack into the beauty brush business. It never used to be this way – I used to only get confused by exfoliation scrubs, now I have to deal with mechanical whiz-bang brushes too? I blame the Clarisonic.
It's not necessarily a bad thing. In fact, since the Clarisonic revolution, we've been given oodles of choice and information about this latest beauty essential. Today, I'll be reviewing one of those choices: the Spin For Perfect Skin. I'll also try to do a little bit of a comparison between the two brushes during the review.
The box is sturdy, and looks professional. The images are all the same ones as on their website, and the information printed on the back is much the same, too. It's interesting to note, however, that what you see on the website and on the box, is not everything you actually get.
*Note: You might be screaming "Vitagoods?!" Yes, the company changed names! It is now known as Vanity Planet.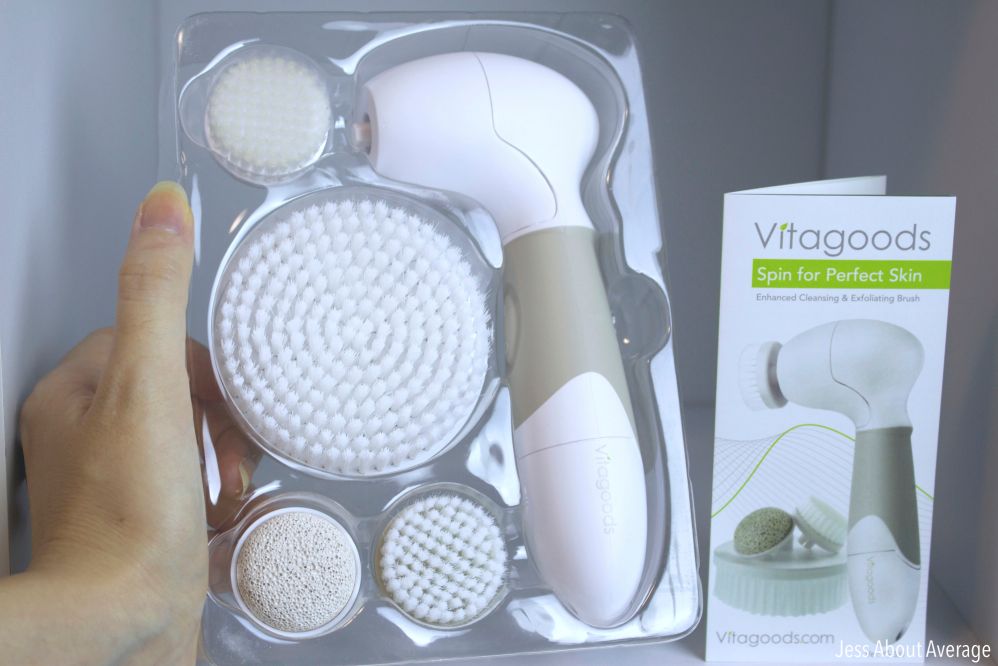 I'm not sure what the go is here, but you get an extra brush head in the pack. SCORE! I find it a bit weird this isn't advertised as such – to me, it's even better value, and I appreciate it a heck of a lot. One of my problems with the Clarisonic, is that the brush heads are too 'rough' on my skin. The only brush head I can use is the extra sensitive. With the Vitagoods Spin For Perfect Skin brush, you receive the handle, a large body brush head, a pumice stone head, a gentle face brush head… and an extra gentle face brush head? I assume! Plus a little booklet with info and coupons. A stellar deal!
One thing I really like about this brush, is that it takes batteries. I prefer this 4 x AA battery method as opposed to the Clarisonic recharge dock. I feel it gives you more flexibility, and more bench space. Plus, it makes it more internationally-friendly: AA batteries are the same everywhere, but an electric plug is country specific. You can usually get a Clarisonic made for your country in department stores, but they are expensive! I bought mine off ebay for about 2/3 of the RRP, but I also had to buy a bulky power converter in order to use it.
Now, a Clarisonic can set you back upwards of $150 for a basic brush, such as the Mia. You can get the Spin Brush, with all the trimmings, for $99. Actually, scrap that. You can get it for $30. I'm serious. I'll let you know how in just a bit!
Before we get to that bargain price, it's probably best if I tell you a bit more about this brush, and what I really think about it.
The Spin Brush is called that for a reason – it spins. It doesn't work on vibrations like the Clarisonic. Instead, each head spins at a rotation of 380 per minute. This motion is fairly basic, and will help to remove stubborn makeup, build-up and dry, dead skin. There is no fancy button or timer, either. Just a simple on and off switch on the handle. Although this does simplify matters, I would suggest you keep mindful of the time and not focus the brush on a single area of the skin for more than a few seconds.
On the topic of how this bush performs, it is quite simple, soft, and easy to manage. You can add your own cleanser to the brush head when you want to use it, or lather your cleanser on your skin and apply the brush in that way. I have only used the extra gentle brush head on my face, as I am paranoid of over-drying (which happened with my Clarisonic). I know some people use these brushes every day, but personally, I would stick to 2-3 times a week only, just to be safe. Having said that, the body brush head is a different story. I love it, and I would easily use this every day on my chest, back and shoulders, to ensure those areas remain bacteria free. A brush head like this is an essential part of my routine. Also, when you wish to swap between the brushes, it's just a simple action of pulling off one head and clicking the next one on instead. No attempts at trying to lock plastic teeth together, just pop on and pop off. Easy.
Now, I'm going to have to be a Debbie Downer for a minute here, because there's a few minor issues I wanted to discuss. This brush is claimed to be 'powerful', but I don't feel it is. Yes, it does the job, but if you're comparing this to the Clarisonic, then forget it. This could be turned into a positive – because it isn't as powerful, it is less likely to cause problems such as over-drying or aggravating the skin. A further problem, is that the brush can be difficult to control. Due to the spinning, the brush naturally wants to spin off and away as you move it over the skin. You need to keep a firm, steady grip in order to counter-act this motion. The other issue I have is that there is no easy way to store this thing. It's a bit bulky, and the brush head fibres could be crushed if stored incorrectly. I have trouble trying to store my Clarisonic, too, but at least it comes with covers for all of the brush heads. This does not.
Alrighty, so remember how I mentioned you could get all of this for only $30? I'm still serious.
When I was approached me to do a review, I umm'ed and ahhh'ed about it a bit. If you read my previous blog post about sponsorship, you'd know why. However, over a few weeks, we were able to come to a great deal for YOU. I'm not saying you have to buy this brush, I'm just saying that if you want to, you can get 70% off the RRP! That is a fair dinkum bargain! If you want to take advantage of the discount, you need to go to this link and use the code 'JSKIN2SPIN' at check-out. This discount code will never expire. I repeat, never expire. Holy crab cakes, that's a beauty of a brush deal.
In addition to the brush, the kind folks at Vanity Planet have also given a 50% off discount code for the replacement brush heads at this link! Just use 'J2REPLACE' at check out.
HUGE update: Vanity Planet released a lighter brush with it's own lovely case to live in! So if you'd rather grab the updated brush (for only $38… I mean, what? How can they even manage to sell so cheap?!) you can use THIS LINK. Easy! I've also written up a new blog post about it here. What a little ripper!
In a world obsessed with deep cleansing and exfoliating, you need to find a companion beauty product that will not only stand up to the big players, but stand on it's own motorised feet. I believe this Spin for Perfect Skin brush does just that. It's simplified, comes with a wide range of heads for a wide range of skin conditions, and you cannot beat the price. If this is your first foray into the world of mechanised skin cleaning, I'd recommend starting with this brush. You have nothing to lose with a price point of $30, and everything to gain in terms of cleaner, smoother skin.
Give it a crack, and feel free to leave your experiences with this brush, or the world of exfoliation brushes, in the comments down below!
If you want to see this little baby in action, check out my YouTube video of it too!